Welcome guests or simply add beauty to your everyday life with exquisite floral arrangements and design by Red Square Flowers. Whether treating you and yours to weekly fresh flower deliveries or breathing new life into your home with our signature container plantings, we'll work with you to bring your space and vision to life. As Madison's downtown upscale florist, we specialize in impressive private events, interior and exterior holiday décor, and always have a dedicated concierge team on hand to fulfill your special requests day or night.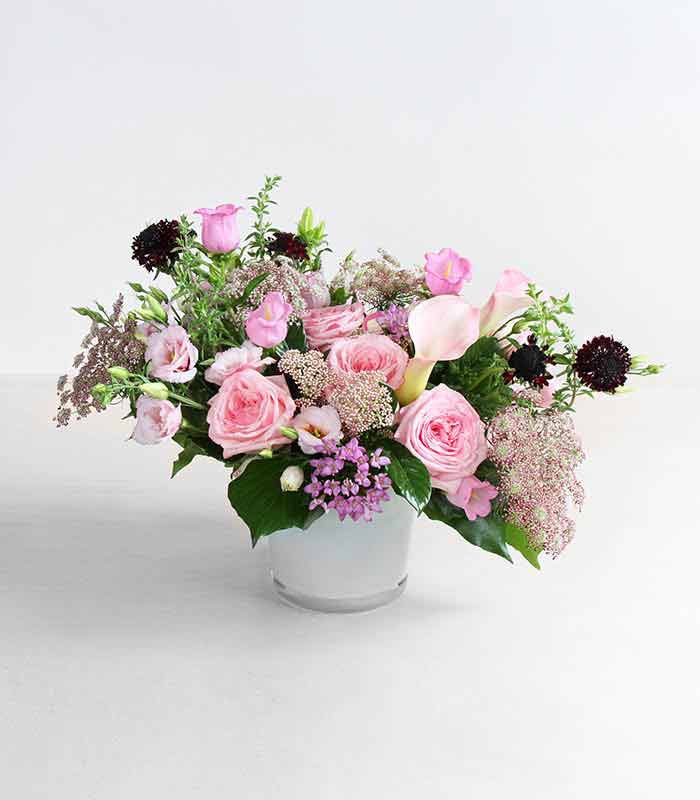 FORGET-ME-NOT SUBSCRIPTION CLUB
At Red Square Flowers, we don't believe there needs to be an occasion to enjoy elegant, breathtaking blooms. With a weekly or monthly delivery of fresh flowers, your home will forever be filled with the vibrancy and vitality of every season. Our dedicated floral designers will take the time to familiarize themselves with both your tastes and your home, creating custom arrangements of premium stems that arrive at your door each week. From foyers to bedside tables, fresh flowers not only brighten a room, they brighten a mood. For more information, call us at 608 268 8200 or email us.
INDOOR & OUTDOOR GARDEN DESIGN
Your home should be a sanctuary—inside and out. Our Garden design team offers a full range of services to transform your interior and exterior into an oasis of custom-designed container plantings. Whether starting with a blank canvas or simply looking for that finishing touch, our design experts will guide you through the entire process from conceptualization to installation. We source high-quality European containers—many of which are exclusive to us—and help you find the ideal placement for your home. Our signature installations feature beautiful, long-lasting varieties of flowering and tropical green houseplants. With unparalleled design expertise and an eye for detail, our team will ensure your space comes alive with natural beauty that complements your home and your personal vision.
MOSS WALL ART
Infuse your space with nature. This unique custom art is clean and modern but also warm and inviting. Enjoy all of the benefits of living plants in your home with our naturally preserved moss art.  We are happy to collaborate on projects that will bring your entire home to life.